Ref:
Date:
Location:
Photographer:
[clikcontent type=paymentBuyLink replaceable=true]
Ref:
Date:
Location:
Photographer:
[clikcontent type=paymentBuyLink replaceable=true]
News & Upcoming Events
Rosalind Davis' is an artist, Curator for Collyer Bristow Gallery, writer, lecturer and consultant. A graduate of The Royal College of Art (2005) and Chelsea College of Art (2003) Davis has exhibited nationally and internationally. Her central concerns in her practice are architecture, transformation and reconfiguration of space working across painting, installation, drawing and photography. She is also co-author of What they didn't teach you in art school, published by Octopus.

In 2018 Davis has a two person show with Justin Hibbs at no format gallery and Sevenoaks Kaleidoscope Gallery. Group exhibitions: Do Re Me So La Te Do at Griffin Gallery curated by Karen David, New Relics at Thameside Gallery curated by Tim Ellis and Kate Terry and Whispering Colour at Bo Lee Gallery curated by Jemma Hickman. In 2019 Rosalind will have a solo show at the Foundry Gallery, Kensington, London for 3 months. You can also see several of Rosalind's work on permanent display at Collyer Bristow Gallery. Please email if you would like a viewing. Please visit the Curatorial Projects Page for latest exhibitions Rosalind is curating.
Current Exhibitions, Press and Talks
Upcoming lecture:
Transition. How to Prosper in the Art World.
Delphian Gallery
Wed, December 12, 2018. 7:00 PM – 9:00 PM
1 Acorn Parade, Meeting House Lane, London, SE15 2TZ
Join us on the 12th December for a panel discussion on how to prosper in the art world. The panel will be chaired by Benjamin Murphy and Nick JS Thompson from Delphian Gallery together with guest speakers Rosalind Davis and Stuart Waplington.
Rosalind Davis is an artist exhibiting globally, as well as being the permanent curator at Collyer Bristow gallery. She is the co-author of the book "What they didn't teach you at art school".
Stuart Waplington is the founder of theprintspace, London's premier fine art printing company. Creativehub, an online software platform, is the go to place for artists to archive images, print, enter competitions, share files and source artworks for sale in online galleries.
The talk will cover topics such as marketing and exhibiting your work, sales and pricing and transitioning from univerity to starting your art career.
The talk is free to attend but numbers are limited. Please RSVP
here
Recent Exhibitions
Border Controls
Rosalind Davis and Justin Hibbs
The Sevenoaks Kaleidoscope Gallery, Buckhurst Lane Sevenoaks, TN13 1LQ
Exhibition: 6-24 November 2018
Opening times: Monday to Friday (except Thursday) 9-6pm | Thursday: 9- 8pm | Saturday: 9-5pm
Saturday 24 November 2.30-4.30pm. Artists in conversation with Sasha Bowles. Talk begins at 3pm
Border Controls is an exhibition considered within the shadow of increasingly restricted borders and political controls with regard to migration and the increasing isolationism seen both here in the UK (with Brexit) as well as the wider geographical tensions seen currently in Europe and America. The collaboration between Davis and Hibbs see's the artists' consciously inhabiting the thresholds and boundaries between their respective practices in an attempt to open up conversation and discourse around these issues. The personal and political dimensions of art-making and authorship are seen here as a lens through which to consider wider social concerns and questions that address the dynamics of power, autonomy and control.
For their exhibition at Kaleidoscope Gallery, Davis and Hibbs will show the piece 'Border Controls' - a large scale sculptural installation that brings together different aspects of both artists practice into direct dialogue with one another, creating a single collaborative work. Alongside this the artists will also exhibit a number of individual artworks that extend this conversation. Within the parameters of the gallery neither artists work can be negotiated without experiencing reflections of the other within them. Physical borders cross, overlap, fluctuate and collapse within an installation which transforms, dematerialises and disorients our understanding of space.
Read a review of the exhibition by David Minton here

Excerpt: As an infectious notion of composing takes shape, we are both empowered and constrained by the frame to choose and compose, reject and move on. Looking from the 'other' open end of the piece, the 'back', alter-ego to the mirrored surface, is softer in black and grey, pulling, as it were, its mirrored side out to escape to a freer space; ground, welded corners and workplace matter-of-factness of steel subvert any illusions that the reflections might harbour of what might be real….

Sensibilities and sensitivities inhabit touch and mark, eye and concept, point and counterpoint. Inferences resonate knowingly through the works here in a to-ing and fro-ing of aesthetic positions.
The implicit notion of taste that infuses this show offers hints and tints of suggestion, of control and direction, the collaboration dance-like, leading and following, point and counterpoint…..

[b]Stewart Law's RCA Secrets 2018 to raise funds a bursary for students.
RCA, Kensington Gore, SW7 2EU
Friday 30 November, 12–7pm
Saturday 1 December, 12–6pm
Sunday 2 & Monday 3 December, 10am – 6pm
More info on how it works is
here
Pacific Breeze
3rd December -13 December
1 White Conduit Street Islington London N1 9EL.
Nearest Tube Angel.
70 artists and designers will create their own original fan. Each unique artworks will be commissioned for this special exhibition. The Artists will create their own contemporary interpretation of the fan. Some of the fans will be purely aesthetic, and others will contain messages such as a social or political comment. More than 10% of the profit will be donated to WWF.
Read more
here.
Recent lecture
How to Thrive and Survive as an Artist
Saturday 1 December
Chapel Arts Studios, Winchester School of Art, Park Road, Winchester
This talk by Rosalind Davis will help artists at all stages of their careers to understand the practical and philosophical aspects of an art career, and learn how they can navigate the difficult transition from education to making a career as an artist and breaking into the creative industries. A creche will be provided for attendees with young children. Rosalind is also offering 3 artists a 40min 1-1 session on a first come first serve basis. Alternatively you can book a 1-2 advice session with David Dixon (CAS Director) and Susan Francis (CAS Curator).
Watch an interview with Rosalind talking about a number of subjects including her work, why art, sustainability and philosophies with
Maija Lepins here
ARRIVE: 9.30 for a 10am start, DURATION: 2hrs
Book
here
CRECHE: 10am – 12 noon
Current Curatorial Project at Collyer Bristow Gallery
Collyer Bristow presents Rules of Freedom, Curated by Rosalind Davis
"For to be free is not merely to cast off one's chains, but to live in a way that respects and enhances the freedom of others." Nelson Mandela
"Rules and freedom are not mutually exclusive. As a matter of fact, the opposite is true. Rules provide freedom." Tim Challies
Juan Bolivar, Carla Busuttil, Simone Bynoe, Paula Chambers, Alice Cunningham, Ana ?vorovi?, Kazz Douie, Lucas Dupuy, Alastair Gordon, Kirsty Harris, Justin Hibbs, Andrea Jespersen, Evy Jokhova, Peter Kennard, Peter Liversidge, David Lock, Alex March, Megan McLatchie, Vanessa Mitter, Hugh Mendes, Judith Tucker, Toby Ursell, Virginia Verran, Ben Woodeson.
11 October- 13 Feb 2019
Collyer Bristow Gallery, 4 Bedford Row, London WC1R 4TF
Rules of Freedom - a rhetorical oxymoron or fact? Freedom requires rules, laws and clear parameters of some sort - transparent systems; a democracy where people have free speech, where people can protest / vote or strike about the issues that matter to them. After so many years of both women and men working to build a civil society that seeks to make the world freer, fairer and more progressive, whether through the vote for women and the working classes in the People's Representation Act 100 years ago, the civil rights movement, political freedoms, LGBTQ+ rights or the freedom of movement, the world now seems to be questioning the very rules of freedom. Where are we now?
Full press release
here
Recent Exhibitions
BORDER CONTROLS
Rosalind Davis and Justin Hibbs in collaboration.
no format gallery, Arch 29 Rolt St, London SE8 5JB
Open Friday 21st 2-8pm to coincide with Deptford X Launch night.
Sat 22nd, Fri 28th & Sat 29th September 2-7pm. Or by appointment.
Saturday 29th September Closing event - Artists in Conversation with Richard Ducker 6-8.30pm.
#Bordercontrols
'Artistic production is nodal, networked, and a perpetually unfinished project, things nudging each other, domino effects transpiring. The real-world analogue of this is that in an artist's studio, it's always a transitional moment: the detached artwork as standalone statement is a falsity, a piece of theatre. In reality, one thing leads to another, all kinds of ambient forces shaping what's made' (Martin Herbert from the text 'Between Before and After' to accompany Justin Hibbs Exhibition 'Alias Re-Covered' Carroll/Fletcher 2015).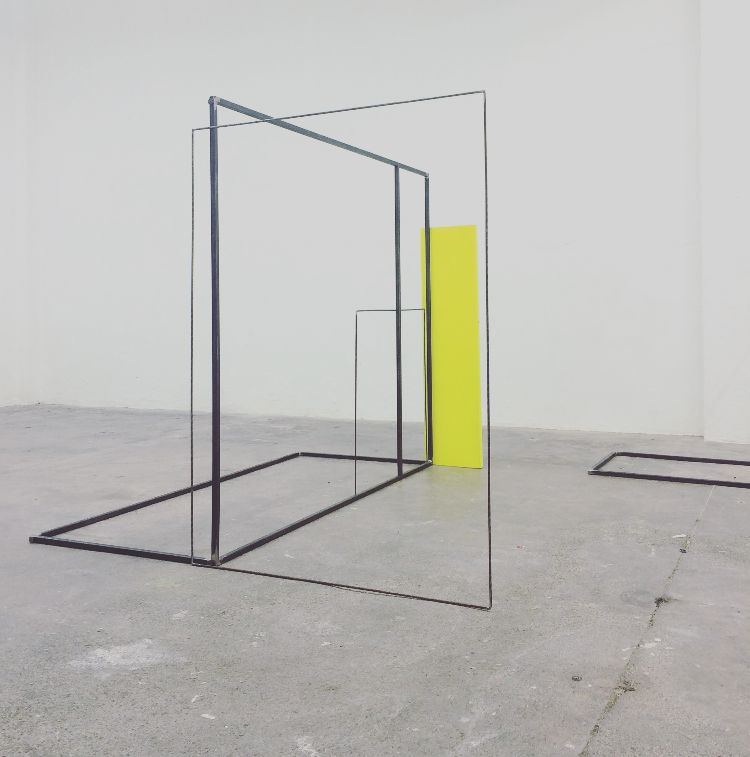 More info
here.
PRESS
ASSEMBLAGE INTERVIEW WITH ROSALIND DAVIS
Megan Elliott, December 2017
Rosalind discusses art, art education, exhibitions, Collyer Bristow Gallery. What They Didn't Teach You In Art School and advice for artists
Read the in depth interview
here.
Secondary Structures. Wall Street International Article
Definitely Uncertain Sculpture
by Jillian Knipe
An article about Rosalind Davis' work as Curator and Artist, Andrea Madjesi-Jones, Silvina Soria and Andrea V Wright.
Excerpt....
"These four artists broaden what was once referred to as "form" into "formation". From a singular shape to an emergence of bringing something or some things into existence. As a result, their work becomes a little more difficult to interpret than their predecessors but is all the more liberated and democratic for it. They have progressed from the mantra of the minimalists who insisted on dealing with only what was in front of them, or, in the words of Frank Stella, 'what you see is what you see', to acknowledging the body, the present.unseen and personal histories. These are all arguably and equally what is there in the moment alongside the materials for making...
Rosalind Davis also observes this tension between the personal and the order, beginning with a focus on public housing. Aside from her curatorial work, she is a published author and an artist in her own right. Her practice has developed from an exterior view of buildings to stepping inside the room and exploring the space within. 'Haus Constructiv' 2017 is a modular structure of steel, perspex and thread. It plays off last century's constructivist and concrete artists to create a transformative piece which looks to fold, shift, disassemble, lean and reconfigure itself with endless possibilities. Rosalind relates this to her earlier paintings of brutalist and modernist buildings as if she's 'taken the structure and pulled it out and turned it into a sculpture'. Read the full article
here
Rosalind Davis talks about the process and ideas behind her work in Make_Shift at Collyer Bristow Gallery with dateagleart.
http://bit.ly/2Bm1FGL
Art Side of Life Interview on YouTube
Davis talks about her art education and subsequent career as an artist and curator, fab mentors and collaborations, time, organisation, valuable experiences and exhibitions and great advice she was given... and building your own art world...watch it
here.
Book now available!
'What they didn't teach you in Art School'
written by Rosalind Davis and Annabel Tilley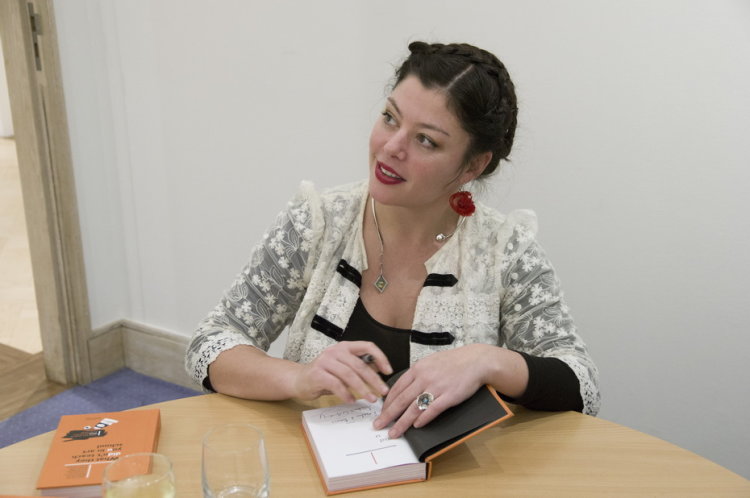 Review:
What They Didn't Teach You in Art School:
Rosalind Davis and Annabel Tilley (Octopus Books)
A comprehensive introduction to how to survive and succeed as an artist, artist-curators Rosalind Davis and Annabel Tilley have created an easy to use guide that draws on the advice and experience of over 30 contributors, including artist and a-n contributor Alistair Gentry, curatorial duo Day+Gluckman, and painter Graham Crowley.... what is new and hugely worthwhile is the way they have been brought together in a practical and accessible format. There's much here that will be helpful for artists starting out, and possibly some useful tips for more established practitioners too.
Chris Sharrett, a-n.
' Essential Reading for Artists' The Observer.
'What they didn't .....' reads beautifully. It's thankfully free of jargon and there's also no arts-speak - that's not only refreshing but essential in a book designed to demistify and enable. The style is both accessible and intelligible. The balance of lucidity and (raw) information is a hell of an achievement. The 'voice' of the writer(s) is authoritative and generous. Instead of dictating to the reader you offer them a range of strategies. I was very glad to see that you've avoided giving undue credence to the business of celebrity, 'success' and fame. Your book allows the reader to address their needs in a purposeful and intelligent manner. I also enjoyed the way in which you've managed to encourage the reader to reference their own values and needs. You've resisted the temptation to impose a template.'
Graham Crowle
Order your copy
here
.
Also available in the Tate, the Barbican, Waterstones, Saatchi Gallery, ICA, Baltic, National Gallery at Guardian Books and many more