Ref:
Date:
Location:
Photographer:
[clikcontent type=paymentBuyLink replaceable=true]
Ref:
Date:
Location:
Photographer:
[clikcontent type=paymentBuyLink replaceable=true]
Writing and Press
This section also includes commissioned articles as well as press and interviews with Rosalind.
As a writer Davis has co-written What They Didnt Teach You in Art School, pulished by Octopus Books and contributed to to the Guardian, a-n Magazine and Artlicks.
Watch an interview with Rosalind talking about a number of subjects including her work, why art, sustainability and philosophies with
Maija Lepins at Chapel Arts Studios ahead of her talk there on the 1 December here
ARRIVE: 9.30 for a 10am start, DURATION: 2hrs
Book
here
CRECHE: 10am – 12 noon
ADVICE SESSIONS: 12.45pm, 1.45pm, 2.45pm
Secondary Structures. Wall Street International Article
Definitely Uncertain Sculpture by Jillian Knipe
An article about Rosalind Davis' work as Curator and Artist, Andrea Madjesi-Jones, Silvina Soria and Andrea V Wright.
Excerpt....
"These four artists broaden what was once referred to as "form" into "formation". From a singular shape to an emergence of bringing something or some things into existence. As a result, their work becomes a little more difficult to interpret than their predecessors but is all the more liberated and democratic for it. They have progressed from the mantra of the minimalists who insisted on dealing with only what was in front of them, or, in the words of Frank Stella, 'what you see is what you see', to acknowledging the body, the present.unseen and personal histories. These are all arguably and equally what is there in the moment alongside the materials for making...
Rosalind Davis also observes this tension between the personal and the order, beginning with a focus on public housing. Aside from her curatorial work, she is a published author and an artist in her own right. Her practice has developed from an exterior view of buildings to stepping inside the room and exploring the space within. 'Haus Constructiv' 2017 is a modular structure of steel, perspex and thread. It plays off last century's constructivist and concrete artists to create a transformative piece which looks to fold, shift, disassemble, lean and reconfigure itself with endless possibilities. Rosalind relates this to her earlier paintings of brutalist and modernist buildings as if she's 'taken the structure and pulled it out and turned it into a sculpture'. Read the full article
here
Rosalind Davis' 7 Top Tips for Surviving and Thriving after Art School
http://bit.ly/2BU6J9a
Rosalind Davis talks about the process and ideas behind her work in Make_Shift at Collyer Bristow Gallery with dateagleart
.
http://bit.ly/2Bm1FGL
An interview with Rosalind by the Art Side of Life
is now live on YouTube where she talks about her art education and subsequent career as an artist and curator, fab mentors and collaborations, time, organisation, valuable experiences and exhibitions and great advice she was given... and building your own art world...watch it
here.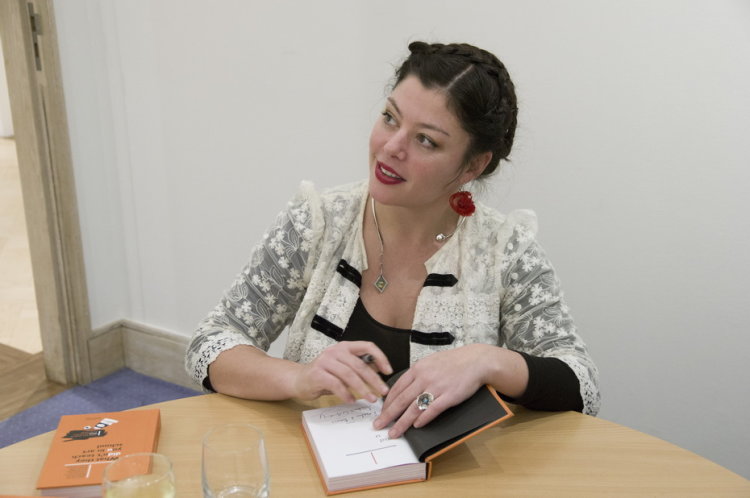 Book now available!
'What they didn't teach you in Art School'
written by Rosalind Davis and Annabel Tilley
Review:
What They Didn't Teach You in Art School: Rosalind Davis and Annabel Tilley (Octopus Books)
A comprehensive introduction to how to survive and succeed as an artist, artist-curators Rosalind Davis and Annabel Tilley have created an easy to use guide that draws on the advice and experience of over 30 contributors, including artist and a-n contributor Alistair Gentry, curatorial duo Day+Gluckman, and painter Graham Crowley. While much of the advice and ideas here may not be new in of themselves, what is new and hugely worthwhile is the way they have been brought together in a practical and accessible format.There's much here that will be helpful for artists starting out, and possibly some useful tips for more established practitioners too. a-n.
' Essential Reading for Artists' The Observer.
'What they didn't .....' reads beautifully. It's thankfully free of jargon and there's also no arts-speak - that's not only refreshing but essential in a book designed to demistify and enable. The style is both accessible and intelligible. The balance of lucidity and (raw) information is a hell of an achievement. The 'voice' of the writer(s) is authoritative and generous. Instead of dictating to the reader you offer them a range of strategies. I was very glad to see that you've avoided giving undue credence to the business of celebrity, 'success' and fame. Your book allows the reader to address their needs in a purposeful and intelligent manner.
I also enjoyed the way in which you've managed to encourage the reader to reference their own values and needs. You've resisted the temptation to impose a template.'
Graham Crowley
Published by Octopus Books.
Order your copy
here
.
Also available in the Tate, the Barbican, Waterstones, Saatchi Gallery, ICA, Baltic, National Gallery at Guardian Books and many more.
Press
A review of Fabrications, an exhibition at the Furniture Makers Hall by David Gledhill on @an_artreviews
Davis' paintings cite and improvise on a high modern repertoire of architectural and design forms, adding stitched geometries and broad washes of translucent pigment to conjure a set of complex interior spaces that convey something of the existential doubt that began to infect the modernist project during the post-war period. In the drawers of an elegant desk in the upstairs room, Davis has placed a series of altered photographic reproductions from Lesley Jackson's Modern British Furniture.
Stitched and painted across, these canonical tubular steel and leather chairs are pulled back from their pristine functionalism to a provisional status that simultaneously offers and questions the promise of a plan for living. The use of needlecraft in both the paintings and photographs reinfuses the angular severity of industrialised production methods with a comforting domesticity, reminding the viewer of the quite different principles that had informed pre-modern design movements.
Entry Point, a steel and thread sculpture suspended in the stairwell, effortlessly achieves a harmony of materials, form and space that evokes approval of the modernist integration of art and life,
Read more
here
.
Work featured in;
Stitch Stories: Personal Places, Spaces and Traces in Textile Art by Cas Holmes
here
.
"Tales of Winter: The Art of Snow & Ice"
Broadcast on BBC4
Directed by Spike Geillinger, Assistant Producer Dan Goldschmeid
This film takes an eclectic group of people from all walks of life out into the cold to reflect on the paintings that have come to define the art of snow and ice. Contributors include Rosalind Davis, Grayson Perry, Will Self and Don McCullin
Watch a clip here
TOP 10 FEMALE ARTISTS ON RISE ART
Renowned art dealer and founder of the Hollywood Road Art's club, Amanda K Lambert talks us through her top 10 female Artists on Rise Art including Rosalind Davis and Fiona Rae.
Read more here
Colinne Milliard on Blouin Art Info, "Painting Exhibition on the 2011 Riots Opens in Tottenham"
A show tackling the riots that spread like wildfire across London and other British cities in the late summer 2011 has opened in Tottenham, then one of the epicentres of unrest in the capital.
Read more here
=
Riots and Reparation: an interview with Rosalind Davis | by Tom Jeffreys, Wild Culture Magazine...
' The paintings have a kind of intimacy which is at once alluring and unsettling...ADavis talks of the desire to explore "sensations of vulnerability and insecurity" in works that are at once calm, violent
These quiet, blue works form a series of personal relics – "a kind of commemoration (the stitch being about reparation)". There's a note of the elegiac here – a contemplative sadness for a past and absent moment of violence – but also hope, beauty and a sensitivity to the individual (story/event/rioter/shop-owner).
Read full article here.

Rosalind Davis talks riots, paintings, being an artist and ZeitgeistArtsProjects on Reprezent Radio.
Listen here

Rosalind Davis was invited to write an article for the CSM Fine Art Degree Show Catalogue 2014.
Read Reinventing the Art World
here

More press below.